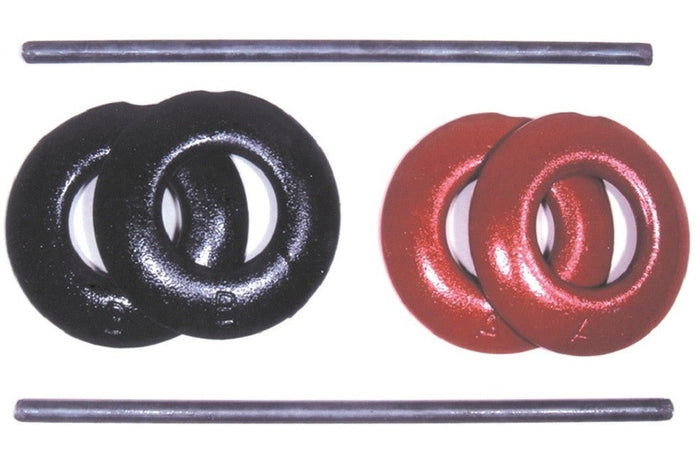 Authentic Amish Made
QUOITS GAME SET

with Cast Steel Hobs & Rings
Bring the classic lawn game Quoits to your next backyard event and bring the fun for all ages.
We offer these sets in 2 different ring weights:
♦ USQA Official 4 pound quoits/rings (adults)
All quoits feature smoothly curved grooves for better grip, control and finger comfort. Now, just pick a peg/hob distance to ensure a good, competitive game for all!
"Quoits, a game in which players toss rings at a stake, called the hob. A ring that encircles the hob scores two points for the thrower; a ring closer to the hob than an opponent's scores one. It has been said that the game was played in Roman-occupied Britain (1st–5th century), or it may have been developed in medieval Britain, perhaps when peasants heated and bent horseshoes into rings and tossed them at iron pegs driven into the ground. Later, in the United States and Canada, horseshoe pitching became the more popular game." Britannica
While becoming relatively unheard of in many areas, quoits has remained a social gathering favorite among the Plain Communities of Pennsylvania.  Manufactured at an old order Amish homestead in Lancaster PA, each set is made to stand the test of time and use.
Pride in craftsmanship you can see!
EACH SET FEATURES:
4 Quoits / 2 Colors
2 Pegs (hobs) with Washers


Guaranteed for hours of outdoor fun that will bridge generations!
Unplug and unwind with this finely crafted, classic outdoor game.
Great for picnics, backyard Bar-B-Q's, camping, vacation, house warming gifts, almost any outdoor event!

MADE in the U.S.A.

Shipping
Unless otherwise specified, orders generally ship within 3-7 business days. When your order ships you will be notified via email and provided tracking. In the event of back order you will be notified via email. We ship via USPS, Fed-Ex and UPS. Furniture and other custom orders generally ship within 4-8 weeks. Furniture shipments will be arranged with a third party freight delivery company. Furniture shipping rates are for curbside delivery. You will need to be present and will be responsible for having furniture transported indoors from the curb. Should you require indoor delivery please "Contact Us" for assistance. Should you require expedited delivery for any order please "Contact Us" for expedited shipping options
Returns Policy
We take great pride in 100% customer satisfaction. If for any reason, you're not satisfied with your purchase, we've outlined the following guidelines to help make your return a smooth and seamless experience: You may return your unused item in its original condition and packaging within 14 days of receipt. Please request a return by clicking on "Contact Us" and requesting a return authorization number to expedite your return. Unless your item is received damaged, or there was some error on our part, you will be responsible for all return shipping costs. Custom, handmade items and lighting are subject to a 20% restocking fee. Because refunds will not be issued in full for items damaged in return shipping or returns that are never received, we highly recommend that you insure all return shipments and provide Saving Shepherd with the shipment tracking number. All items are shipped to you in the best possible packaging to ensure that you receive your purchase in perfect condition. Upon receipt, please inspect your package closely. If you receive a damaged item, we will assist you in receiving a replacement or refund as quickly as possible - at no cost to you. Should you observe significant damage to the outer packaging, please reject the shipment and have the carrier return it. If there is minor damage to the packaging, please indicate as such when you sign for the shipment. In the unlikely event that you find your product to be damaged upon opening it please notify Saving Shepherd Support by clicking "Contact Us" Please notify Saving Shepherd of any damaged product within 3 days of receipt.