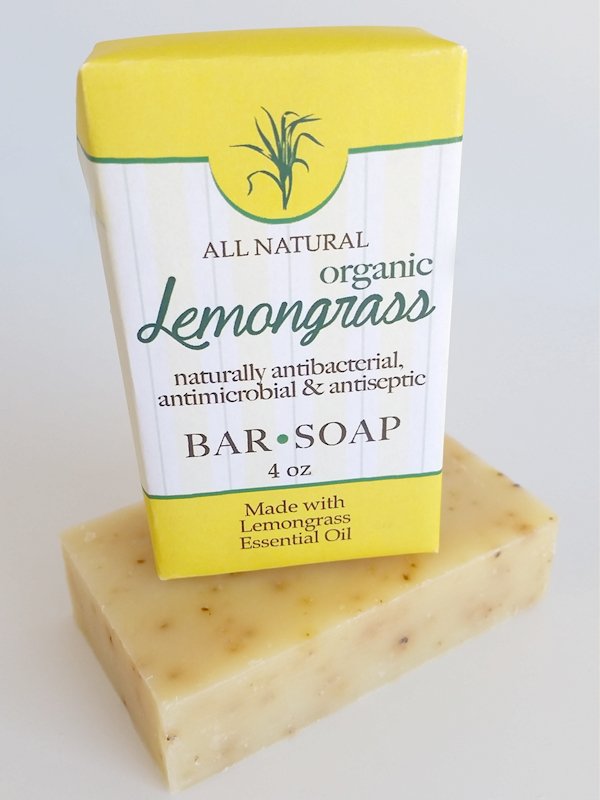 A wonderful organic lemongrass oil is used to create a truly moisturizing bar that not only is antibacterial, antimicrobial, it is an anti-septic bar as well. Use on oily skin or hair.
The fresh aroma is clean with a smell of freshly zested lemons. Stop using anti-bacterial products with triclosan! Studies have shown that the chemical, triclosan can disrupt the endocrine systems, binding to receptor sites in the body, which prevents the thyroid hormone from functioning normally.
Additionally, triclosan penetrates the skin and enters the bloodstream more easily than previously thought, and has even turned up in breast milk in troubling quantities.
Hand Made in the USA
Shipping
Unless otherwise specified, orders generally ship within 3-7 business days. When your order ships you will be notified via email and provided tracking. In the event of back order you will be notified via email. We ship via USPS, Fed-Ex and UPS. Furniture and other custom orders generally ship within 4-8 weeks. Furniture shipments will be arranged with a third party freight delivery company. Furniture shipping rates are for curbside delivery. You will need to be present and will be responsible for having furniture transported indoors from the curb. Should you require indoor delivery please "Contact Us" for assistance. Should you require expedited delivery for any order please "Contact Us" for expedited shipping options
Returns Policy
We take great pride in 100% customer satisfaction. If for any reason, you're not satisfied with your purchase, we've outlined the following guidelines to help make your return a smooth and seamless experience: You may return your unused item in its original condition and packaging within 14 days of receipt. Please request a return by clicking on "Contact Us" and requesting a return authorization number to expedite your return. Unless your item is received damaged, or there was some error on our part, you will be responsible for all return shipping costs. Custom, handmade items and lighting are subject to a 20% restocking fee. Because refunds will not be issued in full for items damaged in return shipping or returns that are never received, we highly recommend that you insure all return shipments and provide Saving Shepherd with the shipment tracking number. All items are shipped to you in the best possible packaging to ensure that you receive your purchase in perfect condition. Upon receipt, please inspect your package closely. If you receive a damaged item, we will assist you in receiving a replacement or refund as quickly as possible - at no cost to you. Should you observe significant damage to the outer packaging, please reject the shipment and have the carrier return it. If there is minor damage to the packaging, please indicate as such when you sign for the shipment. In the unlikely event that you find your product to be damaged upon opening it please notify Saving Shepherd Support by clicking "Contact Us" Please notify Saving Shepherd of any damaged product within 3 days of receipt.