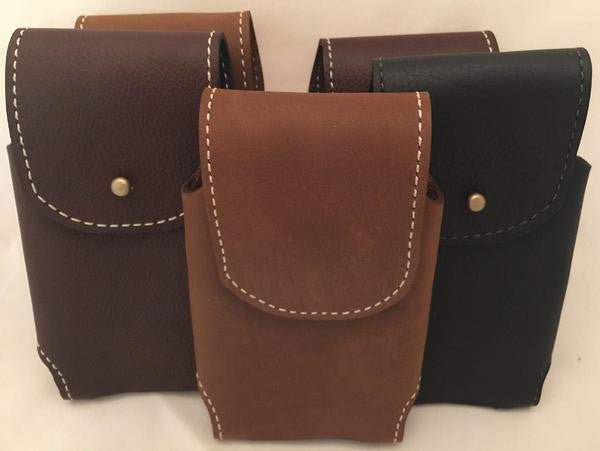 GENUINE AMISH HANDMADE LEATHER
CELL PHONE BELT HOLSTER CASE & WALLET


THE ONE ACCESSORY YOU WON'T LEAVE HOME WITHOUT!
USA Handmade Rustic Holster Case
Built-In Wallet & Belt Loop
Strong ~ Sturdy ~ Primitive
Minimalist Functional Fashion Exclusively at Saving Shepherd

~~~~~~~~~~~~~~~~~~~~~~~~~~~~~~~~~~~~~~~~~~~~~~~~~~~~

Designed out of necessity and love, we are proud to offer these custom, handmade Leather Belt Cases with incorporated "hidden" Wallets for the iPhone 6, 7 & 8 (or similarly sized "Phablets").

Designed for safely and securely carrying everything you need with you during the course of a day in simple, stylistic, minimalist fashion.
This case is crafted with the lighter shade of leather with unique stud closure.
If you are interested in a different shade or closure, see our other listings or just "contact us".
APPROXIMATE MEASUREMENTS:
Exterior - 3.5"w x 5.75"h x .75"d
Interior - 3"w x 5"h x .5"d
Beautifully supple yet durable leather encases your phone. Strong stitching done to perfection and rustic brass rivets enhance the style while ensuring this case is rugged and built-to-last!
A hidden wallet is centered on the back of the case with the belt loop - large enough to carry your license & a few credit cards yet positioned to be safely tucked against your body and completely out of sight. Your cards/cash are easily accessible while wearing the case. The phone is thoroughly secured by a large top flap with truly unique and stud fastener/closure.
A large opening on the bottom of the case allows for the phones speaker to emit crisp, clear sound as well as to allow for the phone to charge while still being protected inside the case! Easy access to the "silent" switch while in case, too! Finally, both the placement of the rivets and the softness of the leather allow one to turn on/off and adjust volume (buttons unexposed). A video showing the case close-up can be seen here -->
http://youtu.be/OThuJeNRO4M
This fine leather phone case is quite obviously built for function and to last, however, it is equally at home on the trail or in the board room! Whether your kicks are hiking and biking or your M.O. is being a C.E.O., you will look great while your phone is being protected by the most unique and enjoyable "case" around!

Please note that these are individually, handmade cases. Crafted in an Amish leather shop with hand tools and generations of passed on skills and knowledge. Variations, minor imperfections can/will be present and are inherent to both design and process. Leather case will develop its own patina with time/use and the continually conform to your phone. Each IS and will be a true ONE-OF-A-KIND and will take several days to be crafted for YOU!
Shipping
Unless otherwise specified, orders generally ship within 3-7 business days. When your order ships you will be notified via email and provided tracking. In the event of back order you will be notified via email. We ship via USPS, Fed-Ex and UPS. Furniture and other custom orders generally ship within 4-8 weeks. Furniture shipments will be arranged with a third party freight delivery company. Furniture shipping rates are for curbside delivery. You will need to be present and will be responsible for having furniture transported indoors from the curb. Should you require indoor delivery please "Contact Us" for assistance. Should you require expedited delivery for any order please "Contact Us" for expedited shipping options
Returns Policy
We take great pride in 100% customer satisfaction. If for any reason, you're not satisfied with your purchase, we've outlined the following guidelines to help make your return a smooth and seamless experience: You may return your unused item in its original condition and packaging within 14 days of receipt. Please request a return by clicking on "Contact Us" and requesting a return authorization number to expedite your return. Unless your item is received damaged, or there was some error on our part, you will be responsible for all return shipping costs. Custom, handmade items and lighting are subject to a 20% restocking fee. Because refunds will not be issued in full for items damaged in return shipping or returns that are never received, we highly recommend that you insure all return shipments and provide Saving Shepherd with the shipment tracking number. All items are shipped to you in the best possible packaging to ensure that you receive your purchase in perfect condition. Upon receipt, please inspect your package closely. If you receive a damaged item, we will assist you in receiving a replacement or refund as quickly as possible - at no cost to you. Should you observe significant damage to the outer packaging, please reject the shipment and have the carrier return it. If there is minor damage to the packaging, please indicate as such when you sign for the shipment. In the unlikely event that you find your product to be damaged upon opening it please notify Saving Shepherd Support by clicking "Contact Us" Please notify Saving Shepherd of any damaged product within 3 days of receipt.