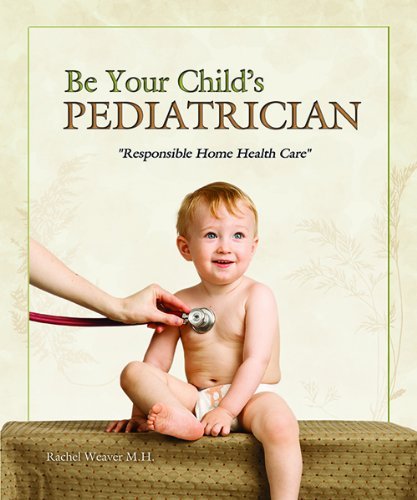 Be Your Child's Pediatrician
"Responsible Home Health Care"
by Rachel Weaver M.H.
Rachel Weaver, mother of nine and grandmother of fourteen, midwife, and master herbalist brings you a wealth of information from her decades of study and experience. This book is packed with practical advice and personal stories and spiced with the humor of daily life.
"When I was growing up, my mother had a small book on how to care for your child's health. It was printed before the late 50's or early 60's, because it was there by the time I was eight and reading everything I could get my hands on. I would sit for a long time studying the pictures and reading what they said about each disease. By the time I became a mother, I could not find my mother's book nor could I find one on the market. To me, this information is an important part of mothering and doctoring my family. If I am familiar with the rashes, where they start and when they are contagious, etc, I am not nearly as likely to run off to the doctor. If I also know what to expect for the course of the disease and realize that there are things that I can do to make my child more comfortable, I become more confident. Read the information and study the pictures and be prepared to deal with diseases as they come."
The FDA has not evaluated the information in this book. In any health matter, the FDA tells you to contact a qualified, professional, licensed health care practitioner.
Shipping
Unless otherwise specified, orders generally ship within 3-7 business days. When your order ships you will be notified via email and provided tracking. In the event of back order you will be notified via email. We ship via USPS, Fed-Ex and UPS. Furniture and other custom orders generally ship within 4-8 weeks. Furniture shipments will be arranged with a third party freight delivery company. Furniture shipping rates are for curbside delivery. You will need to be present and will be responsible for having furniture transported indoors from the curb. Should you require indoor delivery please "Contact Us" for assistance. Should you require expedited delivery for any order please "Contact Us" for expedited shipping options
Returns Policy
We take great pride in 100% customer satisfaction. If for any reason, you're not satisfied with your purchase, we've outlined the following guidelines to help make your return a smooth and seamless experience: You may return your unused item in its original condition and packaging within 14 days of receipt. Please request a return by clicking on "Contact Us" and requesting a return authorization number to expedite your return. Unless your item is received damaged, or there was some error on our part, you will be responsible for all return shipping costs. Custom, handmade items and lighting are subject to a 20% restocking fee. Because refunds will not be issued in full for items damaged in return shipping or returns that are never received, we highly recommend that you insure all return shipments and provide Saving Shepherd with the shipment tracking number. All items are shipped to you in the best possible packaging to ensure that you receive your purchase in perfect condition. Upon receipt, please inspect your package closely. If you receive a damaged item, we will assist you in receiving a replacement or refund as quickly as possible - at no cost to you. Should you observe significant damage to the outer packaging, please reject the shipment and have the carrier return it. If there is minor damage to the packaging, please indicate as such when you sign for the shipment. In the unlikely event that you find your product to be damaged upon opening it please notify Saving Shepherd Support by clicking "Contact Us" Please notify Saving Shepherd of any damaged product within 3 days of receipt.