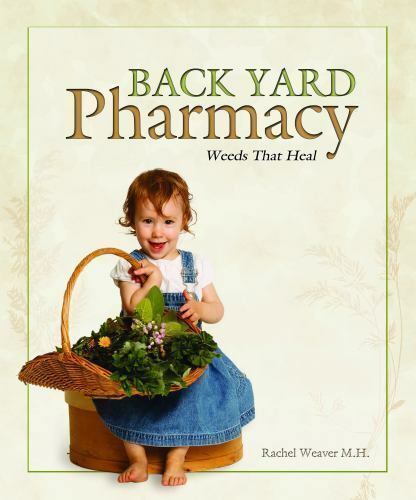 Back Yard Pharmacy, provides fascinating, full color information on how to use the plants growing around you. It is amazing to learn that the many plants that we call weeds, can heal us of many of our diseases.
Did you know that: Alfalfa can help rebuild your tooth enamel and increase breast milk supply? Burdock can ease skin issues and clear up nasty fungus? Calendula is really helpful for wounds and varicose veins? Chickweed clears up pink eye quickly and is a great aid in weight-loss? Common Mallow, a pesky weed, is so helpful, you do not want to be without it? Dandelion is a valuable aid in regulating blood sugar levels? Jewelweed is the "weed" of choice to heal poison ivy problems? Mullein often clears up asthma, even in older people? Plantain can take the place of comfrey in wound healing? Yarrow can stop cramps and bleeding and relieve headaches? Stinging Nettle is a wonderful blood purifier and energy herb? Violet is known for its ability to help remove cysts and stop coughs? Pokeweed is a helpful plant for removing cysts and breast lumps? Teasel is a real help for most folks with lyme disease? Learn of the benefits of these common "weeds" in this book: Alfalfa, Black Walnut Hulls, Burdock, Calendula, Greater Celandine, Chickweed, Cleavers, Common Mallow, Dandelion, Elderberry, Jewelweed, Mullein, Stinging Nettle, Plantain, Poke, Purslane, Queens Anne's Lace, Rose Hips, Teasel, Violet, Wild Lettuce, Yarrow.
Such a valuable book to add to your collection.
The FDA has not evaluated the information in this book. In any health matter, the FDA tells you to contact a qualified, professional, licensed health care practitioner.
Shipping
Unless otherwise specified, orders generally ship within 3-7 business days. When your order ships you will be notified via email and provided tracking. In the event of back order you will be notified via email. We ship via USPS, Fed-Ex and UPS. Furniture and other custom orders generally ship within 4-8 weeks. Furniture shipments will be arranged with a third party freight delivery company. Furniture shipping rates are for curbside delivery. You will need to be present and will be responsible for having furniture transported indoors from the curb. Should you require indoor delivery please "Contact Us" for assistance. Should you require expedited delivery for any order please "Contact Us" for expedited shipping options
Returns Policy
We take great pride in 100% customer satisfaction. If for any reason, you're not satisfied with your purchase, we've outlined the following guidelines to help make your return a smooth and seamless experience: You may return your unused item in its original condition and packaging within 14 days of receipt. Please request a return by clicking on "Contact Us" and requesting a return authorization number to expedite your return. Unless your item is received damaged, or there was some error on our part, you will be responsible for all return shipping costs. Custom, handmade items and lighting are subject to a 20% restocking fee. Because refunds will not be issued in full for items damaged in return shipping or returns that are never received, we highly recommend that you insure all return shipments and provide Saving Shepherd with the shipment tracking number. All items are shipped to you in the best possible packaging to ensure that you receive your purchase in perfect condition. Upon receipt, please inspect your package closely. If you receive a damaged item, we will assist you in receiving a replacement or refund as quickly as possible - at no cost to you. Should you observe significant damage to the outer packaging, please reject the shipment and have the carrier return it. If there is minor damage to the packaging, please indicate as such when you sign for the shipment. In the unlikely event that you find your product to be damaged upon opening it please notify Saving Shepherd Support by clicking "Contact Us" Please notify Saving Shepherd of any damaged product within 3 days of receipt.